The University of Wisconsin–Madison and the American Chemical Society are partnering to train more underrepresented minority students in chemical research to increase the numbers of these students in chemistry doctoral programs.
The ACS Bridge Program will bring talented, underrepresented minority students to the UW–Madison campus beginning this fall. These aspiring scientists, who previously experienced limited course or research opportunities, will build stronger application portfolios for chemistry doctoral programs and provide an opportunity for the UW–Madison chemistry department's current faculty and graduate students to serve as mentors.
In just 21 months, the UW–Madison bridge students will hone their research and writing skills, take courses, present a poster at a national ACS meeting and earn a research master's degree.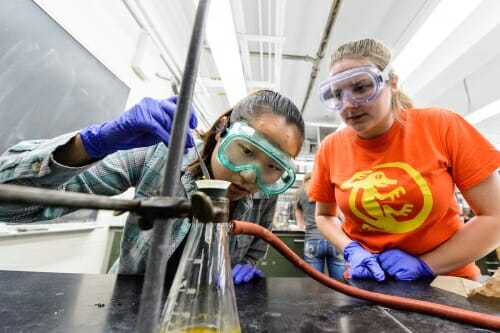 Support comes from the Department of Chemistry, the College of Letters & Science, the Graduate School, ACS, and the National Science Foundation's INCLUDES program, which will jointly contribute approximately $200,000 per year for the first three cohorts.
Each year, students may apply through ACS, which shares the information with the current bridge programs at UW–Madison and Georgia Tech.
"This will create a new pipeline through which students can enter graduate school," says Desiree Bates, computational chemistry leader and diversity committee member in the Department of Chemistry. "For reasons other than ability, they did not have strong enough applications to get into a Ph.D. program."
The new group of future scientists enters with different experiences and backgrounds than many of the department's current graduate students, but those differences bring the program and the department a unique opportunity to grow.
"This strengthens the efforts of our diversity programs and gives us the opportunity to fund an initiative that could have a large impact on increasing diversity," Bates says.
Chemistry Professor Robert Hamers, who was instrumental in bringing the program to UW–Madison, says the benefit of this effort is in adding to the pool of diverse applicants, rather than redistributing those already in the field. As students complete their first year of bridge requirements, they will apply for admission into a doctoral program.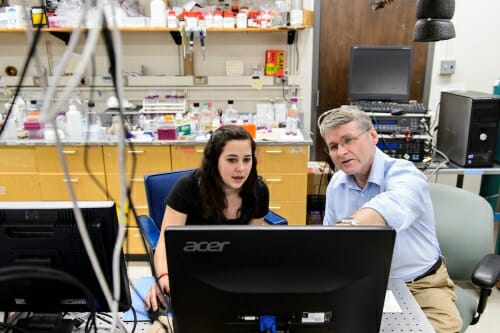 "The intent is for this to prepare them for national admittance into any Ph.D. granting institution," Hamers says. "If it suits their best interest and our best interest to go into our program, that is also an option."
The program's main goal is to increase the number of underrepresented minorities who hold a doctorate in chemistry, which requires a solid plan to ensure the success of admitted students.
"We have critical support networks in place, essential to the success of bridge students in our program," Hamers says. "The Graduate Student Faculty Liaison Committee, Catalyst mentorship program, and external advisory board will serve as resources for these students. We also have a large amount of support up and down the academic chain, from current graduate students to faculty mentors."
The department's steering committee narrowed the pool of applicants, interviewed finalists in April, and will soon extend offers to the first four students. They looked for a passion for chemistry and a student for whom participation in the bridge program would make a significant difference.
Hamers believes the key to the program's success lies in the dedication and excitement faculty and current graduate students have shown toward the program and taking additional mentorship training. In reviewing proposals by faculty to participate in the program, Hamers looked for those with passion, a personal commitment, and research groups that provide strong mentorship.
"I knew this was going to work when I received 20 one-page research proposals from faculty, and faculty and students packed the room to discuss the program," Hamers says. "The room was full of energy. The faculty and graduate students are ready to mentor the new bridge students."